Hey there, it's Liz from CDLP Online. If you're an online influencer looking for ways to monetize your digital footprint, you're going to love what I have to share today. We're delving into the Amazon Influencer Program, a game-changing opportunity that can transform your social media presence into a revenue-generating powerhouse.
Now, Amazon has always been a go-to platform for affiliate marketing, but this Influencer Program is something else entirely. It's like they took the concept of affiliate marketing, supercharged it, and custom-built it for social media influencers. The result? You get your own "storefront" on Amazon where you can feature products you love, connect with your audience in a more personalized way, and of course, rake in a commission on every purchase made through your store.
In this piece, we'll be dissecting the Amazon Influencer Program. We'll explore how it compares to the Amazon Affiliate Program, how you can track your performance, the nifty tools at your disposal, and most importantly, how to stay compliant with Amazon's guidelines.
So, buckle up and get ready to level up your influencer game. We're about to dive deep into the world of Amazon influencers. And trust me, with over 15 years of making money online, I've got a lot of insights to share!
How to Become an Amazon Influencer
Joining the Amazon Influencer Program offers a multitude of benefits, such as earning commissions from qualifying purchases, establishing your own curated storefront, and reaching new customers on one of the world's largest online marketplaces. Ready to join the ranks? Let's explore how!
Benefits of Becoming an Amazon Influencer
As an Amazon Influencer, you can:
Earn Commissions: Get a cut from every sale made through your storefront. With the right strategies, this can be a significant source of passive income.
Create a Storefront: Showcase your favorite products and tailor your store to suit your brand and your audience's interests.
Reach New Customers: Leverage Amazon's extensive user base to grow your own audience and increase your influence.
Eligibility Criteria
To become an Amazon Influencer, you'll need:
A large, engaged following on at least one social media platform.
Content that is relevant and aligns with Amazon's guidelines.
A qualifying social media account (YouTube, Instagram, TikTok, Twitter, or Facebook).
Applying for the Program
Applying for the Amazon Influencer Program is pretty straightforward:
Fill Out the Application Form: Visit the Amazon Influencer Program application page and fill out the form.
Choose Social Media Platforms: Select the platform where you have the most influence.
Wait for Approval: Amazon will review your application, which usually takes about five business days.
Tips for Getting Accepted
Boost your chances of being accepted into the program by:
Optimizing Your Social Media Profile: Ensure your profile clearly communicates who you are, what you do, and why people should follow you.
Posting Regularly: Consistent, high-quality content is key to keeping your audience engaged and attracting new followers.
Engaging with Your Followers: Respond to comments, ask questions, and interact with your audience to foster a sense of community.
Insights from Other Amazon Influencers
According to insights shared by fellow Amazon Influencers on reddit.com, the most successful influencers often focus on niches that align with their personal interests or expertise, post regularly, and prioritize audience engagement. Challenges often involve keeping up with changing guidelines and maintaining a consistent posting schedule. Their advice to new applicants is to be genuine, consistent, and patient.
The consensus also seems to suggest that YouTube and Instagram offer the most potential for influencers due to their visual nature and large, active user bases. Product reviews, how-to guides, and unboxing videos are among the most engaging content formats.
Examples of Successful Amazon Influencers
Here are a few examples of successful Amazon Influencers across different platforms and niches:
Instagram – Fitness: Fitness gurus like Kayla Itsines have found great success by showcasing their favorite workout gear.
YouTube – Tech: Influencers like Marques Brownlee (MKBHD) have carved out a niche by sharing detailed tech product reviews.
Facebook – Cooking: Cooking enthusiasts like Pioneer Woman Ree Drummond engage their audience by sharing their favorite kitchen tools and appliances.
Remember, your success as an Amazon Influencer largely depends on your ability to provide genuine value and establish a connection with your audience. So, be authentic, consistent, and most importantly, enjoy the process!
How to Set Up Your Amazon Influencer Storefront
Setting up your Amazon Influencer Storefront is a straightforward process, but optimizing it for conversions requires some thoughtful planning and creativity. Don't worry, I'm here to guide you every step of the way. Let's dive in!
1. Choose a Name for Your Storefront
This is usually your name or your brand's name – something your followers will instantly recognize. Make sure it aligns with your brand to ensure consistency across all platforms.
2. Craft a Compelling Bio
Your bio is your elevator pitch – make it count! Tell your audience who you are, what you do, and why they should trust your recommendations. Keep it concise and compelling. Remember, people are more likely to engage with someone they can relate to. So, show some personality!
3. Upload a Logo
Your logo is another crucial branding element. It should be eye-catching and memorable, something that reflects your brand's vibe and ethos. If you don't have a logo yet, there are many online tools available to create one (like Canva).
4. Select Your Categories
Pick categories that align with your niche and what your audience is interested in. This could range from tech gadgets to fitness equipment, beauty products, or home decor. The more relevant your categories, the higher the likelihood of conversions.
5. Optimize for Conversions
Optimizing your storefront for conversions is an art in itself. Here are a few quick tips:
Use Clear and Catchy Titles: These should be descriptive and engaging, sparking curiosity and inviting clicks.
Add Detailed Descriptions: The more information you provide about a product, the more likely someone is to buy. Highlight features, benefits, and why you personally recommend it.
Feature Best-Selling Products: Leverage social proof by featuring products that are already best-sellers. This indicates that many people trust and are satisfied with these items.
Below is an example of a well-optimized Amazon Influencer Storefront. Notice how it maintains consistent branding, uses engaging titles, provides detailed descriptions, and showcases a variety of products across relevant categories.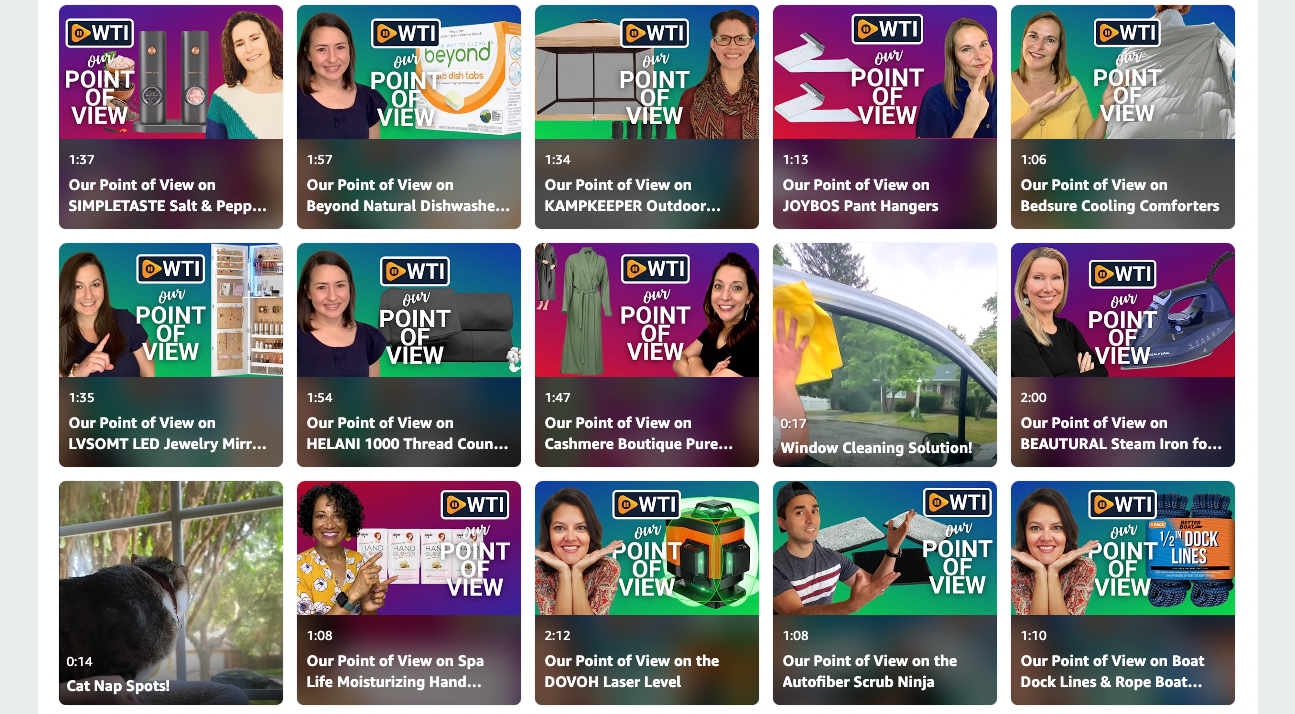 Remember, the goal of your Amazon Influencer Storefront is not just to showcase products but to offer genuine value to your audience. The more effort you put into curating and personalizing your storefront, the more successful you'll be in driving conversions and building trust with your followers. Good luck!
How to Use Idea Lists and Bounties to Enhance Your Storefront
As an Amazon Influencer, you have various tools at your disposal to create an engaging, customized storefront that draws in your audience. Two such features are "Idea Lists" and "Bounties". Let's learn how to use these to optimize your storefront, display your product recommendations, and boost your earnings.
What are Idea Lists and Bounties?
Idea Lists are curated lists of products that you recommend to your audience. Think of them as your personal shopping guides that you can customize based on themes, occasions, or categories. They are an effective way to organize your product suggestions and help your followers discover new items on Amazon.
Bounties are special programs or services offered by Amazon, such as Amazon Prime or Audible, that pay a fixed advertising fee when your followers sign up for them.
Creating and Managing Idea Lists and Bounties
To create and manage Idea Lists and Bounties, follow these steps:
Log into Your Influencer Dashboard: This is your command center, where you can add products, create idea lists, manage your bounties, and track your performance.
Create an Idea List: Select 'Idea Lists' from your dashboard, then click on 'Create a List'. Here, you can name your list, add products, and write descriptions or comments.
Choose Relevant Bounties: In the 'Bounties' section, you'll find a list of Amazon's bounty programs. Choose those that align with your content and audience's interests, and add them to your storefront.
How to Use Idea Lists and Bounties Effectively
Create Themed Idea Lists: For example, if you are a fitness influencer, you might create lists like "Top Fitness Gadgets" or "My Go-To Healthy Snacks".
Add Comments to Your Products: Personalize your Idea Lists by adding comments or anecdotes about why you recommend each product.
Choose Relevant Bounties: If your audience is full of bookworms, it makes sense to promote Audible. Likewise, if your followers love movies and TV shows, Amazon Prime would be a great fit.
By thoughtfully using Idea Lists and Bounties, you can enhance your Amazon storefront, provide value to your audience, and maximize your earning potential. Now, get creative and start building!
How to Promote Your Amazon Influencer Storefront
Creating an appealing Amazon storefront is only half the battle. The next step is to get eyes on it, drive traffic, and ultimately, boost sales. Here are some proven strategies that can help you successfully promote your Amazon Influencer storefront.
A carefully crafted hashtag strategy is key for increasing visibility. When you share a post about your storefront or a product, use relevant hashtags. This can help expand your content's reach beyond your follower base and attract more visitors to your storefront.
Create Engaging Content
Your content should not just be about promoting your products. Strive for a mix of content that entertains, educates, and engages your audience while subtly guiding them towards your storefront.
For example, create a tutorial video using products from your list, a review blog post about the products, or an unboxing Instagram Story. This not only builds trust but also subtly encourages followers to visit your storefront and explore your recommendations.
Collaborate with Other Influencers
Partnering with other influencers can give your storefront exposure to a larger audience. Collaborations could be in the form of shout-outs, product reviews, or co-hosting a live stream.
Here are a few examples of successful promotions by other influencers:
Kayla Durck's Instagram: This fitness influencer shares Instagram posts with a link to their storefront in the bio. They used a combination of relevant fitness and shopping hashtags. The post featured them using a product from their list and sharing their experience.
MrsMelissaM YouTube Videos: This beauty influencer created a YouTube video reviewing beauty products available on their Amazon storefront. They placed the link to their storefront in the video description and mentioned it in the video.
Collaborations: If you are a lifestyle influencer you can collaborate with a home decor influencer and share each other's Amazon storefront links on your Instagram Stories, reaching a wider audience.
Remember, consistency is key in promotion. Regularly sharing engaging content and actively promoting your storefront can help drive more traffic and increase sales. Be creative and don't be afraid to try new strategies to see what works best for your audience!
How to Leverage Different Social Media Platforms to Reach Different Audiences
Diversifying your social media presence is a savvy strategy that can help you tap into different audiences and maximize the reach of your Amazon Influencer storefront. Each platform has its unique demographics, content preferences, and engagement patterns. Here's how you can tailor your content to suit different platforms:
Instagram
Instagram is a visually-driven platform perfect for showcasing products. Make use of Instagram Stories, reels, and IGTV to promote your storefront.
Stories can be used for unboxing products, quick reviews, or showcasing your day-to-day usage of the items.
Reels are a great way to create engaging, short-form content that can quickly grab the audience's attention.
IGTV lets you go more in-depth, perhaps through a product tutorial or comprehensive review.
Ensure you place your storefront link in your Instagram bio or through Swipe Up links if you have access to that feature.
TikTok
TikTok is the place for fun, creative content. Leverage this platform by creating entertaining and informative short videos about your products. Challenges, unboxing videos, product comparisons, and usage tutorials work well on TikTok.
YouTube
YouTube is the go-to platform for long-form video content. Create comprehensive product reviews, tutorials, haul videos, or comparisons. Make sure to place your storefront link in the video description and mention it in the video.
Facebook
Facebook is excellent for community building. Use Facebook groups to gather a community around your niche. You can share your product recommendations, answer questions, and encourage discussions within the group. Always add your storefront link in the group description and pinned posts.
For instance, let's look at how some influencers are acing platform-specific promotions:
Remember, it's important to understand each platform's nuances and tailor your content accordingly. But above all, be authentic and create content that resonates with your audience and showcases the value of your product recommendations.
How to Join the Amazon Live Creator App and Stream Live Video Content
The Amazon Live Creator app is a game-changer for Amazon Influencers, allowing you to directly engage with your audience through live video content right on Amazon.com. The live streams feature your recommended products, letting viewers shop while they watch, and even interact with you in real time.
Getting Started with Amazon Live Creator App
To begin, you'll need to download the Amazon Live Creator app on your mobile device.
After installing the app, sign in with your Amazon Influencer account. You'll then gain access to an interface that lets you manage and monitor your live streams.
Streaming Your First Live Video
The process of streaming live video on the Amazon Live Creator app is relatively straightforward:
Create a new stream: Tap on the '+' button to create a new stream.
Set up your stream: You'll be prompted to select the products you wish to feature during the live stream, write a title and description, and set up your camera.
Go live: When you're ready, hit the 'Go Live' button.
Tips for Engaging Live Video Content
Creating engaging live video content involves a bit of planning and creativity. Here are some tips:
Prepare a script: Having a script helps keep your stream structured and ensures you cover all the important points about the products you're featuring.
Use props: Physically showcasing the products you're recommending can make your stream more engaging and convincing.
Interact with your viewers: Answer questions from the viewers, ask for their opinions, and make them feel part of the conversation.
Offer incentives: Consider offering exclusive deals or promotions during your live stream to incentivize viewers to make a purchase.
Keep in mind that authenticity goes a long way in live streams. Be natural, be yourself, and most importantly, have fun!
Here are a few examples of live video content created using the Amazon Live Creator app:
Makho Ndlovu Live Stream: In this live stream, a fashion influencer tries on and reviews clothing items from their Amazon storefront.
Impressive Things: This tech influencer unboxes and reviews new tech gadgets live on Amazon.
With the Amazon Live Creator app, you're not just promoting your products—you're creating an interactive shopping experience for your audience. So go ahead, give it a shot!
How to Use the Amazon Influencer Program Extension to Easily Add Products to Your Storefront
The Amazon Influencer Program Extension is a game-changing tool that lets you effortlessly add products to your Amazon storefront directly from any Amazon page. This extension, designed for Chrome and Firefox browsers, helps you discover new products, keep your storefront updated, and curate a product catalog that resonates with your audience.
Installing the Amazon Influencer Program Extension
Getting the Amazon Influencer Program Extension up and running is a cinch. Just follow these steps:
Visit the Extension Page: Navigate to the Amazon Influencer Program Extension page on Amazon's website.
Add to Browser: Click on the 'Add to Chrome' or 'Add to Firefox' button to install the extension.
Sign in with Amazon: Once installed, click on the extension icon and sign in with your Amazon Influencer account.
Using the Extension to Add Products to Your Storefront
Now that you have the extension installed, you can start adding products to your storefront. Here's how:
Browse Amazon: Navigate to any product page on Amazon.
Add to Storefront: Click on the extension icon, then click 'Add to Storefront'.
Select Idea List: Choose the Idea List where you want to add the product.
Tips for Using the Extension Effectively
The Amazon Influencer Program Extension simplifies the process of building your product catalog. Here are some tips to maximize its usefulness:
Explore different categories: Broaden your product recommendations by exploring different categories on Amazon. This not only diversifies your storefront but also attracts a broader audience.
Filter products by ratings and reviews: Leverage the power of social proof by adding highly rated and well-reviewed products. These items often translate into higher conversions.
Add comments: When adding a product, consider including a comment that provides your personal insight or experience with the product. This personal touch can boost credibility and engagement.
Here are a couple of examples of how to use the extension:
Adding a Best Seller: Here, the extension is used to add a bestselling book to an Idea List focused on personal development.(Insert screenshot of the extension in action)
Including a Personal Review: In this example, a high-tech gadget is added to a list, accompanied by a personal review detailing the influencer's experience with the product.
Using the Amazon Influencer Program Extension can help keep your Amazon storefront dynamic, diverse, and aligned with your audience's interests. Happy curating!
How to Track Your Amazon Influencer Performance
As an Amazon Influencer, keeping tabs on your performance is crucial. Amazon provides you with a variety of tools to analyze your progress and optimize your performance. By effectively using these reporting tools and understanding the data they provide, you can tweak your strategies for better results.
Accessing Your Amazon Influencer Dashboard
The Amazon Influencer Dashboard is your command center. It offers an overview of your performance metrics, including clicks, conversions, and earnings. Here's how you can access it:
Sign in to your Amazon Influencer account.
Click on 'Influencer Dashboard' in the menu.
You should now be able to see your dashboard and get a quick snapshot of your performance.
Using the Earnings Report
The Earnings Report provides a detailed breakdown of your earnings from the program. To access it:
From the Influencer Dashboard, click on 'Earnings' in the menu.
Here, you can see a detailed breakdown of your earnings, including the source of the earnings, the commission rate, and the payment status.
Diving into the Analytics Report
The Analytics Report digs deeper into your performance data. This includes tracking clicks and conversions, understanding customer feedback, and more. To access it:
From the Influencer Dashboard, click on 'Analytics' in the menu.
This will present a detailed report of your storefront's traffic, click-through rates, and conversion rates.
Tips on Measuring and Improving Your Performance
With these tools at your disposal, you can track a wealth of data to understand and improve your performance. Here are a few tips on how to leverage this data:
Track Clicks: Clicks give an insight into how many users are interacting with your posts. If clicks are low, consider revamping your content strategy or promoting your posts more aggressively.
Monitor Conversions: Conversions tell you how many clicks have resulted in a purchase. If your conversion rate is low, you might need to adjust your product recommendations to better align with your audience's interests.
Check Commissions: By keeping a close eye on your commissions, you can identify which products or categories are earning you the most money. You can then focus on these areas to maximize your earnings.
Customer Feedback: Pay attention to the feedback of your audience. Are they finding your recommendations helpful? Are they making purchases based on your suggestions? Use this feedback to improve your strategies and build stronger connections with your audience.
Below is a screenshot of a typical Amazon Influencer Performance Report:
Understanding and analyzing your Amazon Influencer Performance is key to maximizing your success. By using these tools and insights, you can create a more effective strategy, drive more traffic, and increase your earnings.
How to Get Access to Exclusive Deals, Events, and Opportunities as an Amazon Influencer
Being an Amazon Influencer comes with several perks beyond just the commission-based earnings. These include exclusive deals, invites to special events, and unique collaboration opportunities. These benefits can add tremendous value to your influencer journey by not only enriching your experience but also amplifying your reach and income.
Exclusive Deals
As an Amazon Influencer, you often get early access to deals or exclusive discounts on products and services. This not only allows you to purchase products at a lower cost but also to share these deals with your audience, adding value to their shopping experience and boosting your engagement.
Here's how to stay updated about these exclusive deals:
Check your Amazon Influencer Dashboard regularly for any updates on exclusive deals.
Keep an eye on your email for notifications from Amazon about upcoming deals.
Remember to share these deals with your followers to help them save money and to increase your conversions.
Special Events
Amazon frequently hosts online and offline events such as workshops, webinars, and conferences. These events can offer valuable insights, networking opportunities, and the chance to learn from industry leaders.
To find out about these events:
Keep your contact details up to date in your Amazon Influencer account to ensure you receive all invitations.
Regularly check your Influencer Dashboard and email for updates about upcoming events.
Collaboration Opportunities
Amazon connects influencers with brands for unique collaboration opportunities. These collaborations can boost your exposure, engagement, and earnings.
To explore these opportunities:
Regularly check your Influencer Dashboard for any new collaboration opportunities.
Look out for emails from Amazon or brands looking for collaborations.
Here are some examples of the perks you could have as an Amazon Influencer:
Discounts on Amazon's products or services
Invitations to Amazon-hosted workshops or webinars
Collaborations with top brands
The Amazon Influencer program offers a plethora of opportunities beyond the traditional affiliate model. By leveraging these exclusive deals, special events, and collaboration opportunities, you can significantly enhance your reach, engagement, and earnings.
Amazon Finfuencer Program FAQs
What is the difference between Amazon Influencers and Amazon Affiliates?
Amazon Influencers and Amazon Affiliates are both part of the Amazon associates program, but they cater to different demographics. While the Affiliate program is open to anyone who wishes to promote Amazon products and earn a commission, the Influencer program is specifically designed for social media influencers with a large and engaged following. As an Amazon Influencer, you'll get a personalized storefront where you can curate your recommended products, making it an enhanced affiliate experience.
How do I track my performance as an Amazon Influencer?
Amazon provides a suite of tracking tools for its Influencers. You can access your dashboard, earnings report, and analytics report. These tools give you insights into clicks, conversions, and commissions, allowing you to measure and improve your performance. Additionally, you can track customer feedback to understand what's resonating with your audience.
How do I use different tools and features as an Amazon Influencer, such as idea lists, bounties, live creator app, and influencer program extension?
Idea Lists: These are curated lists of products that you can create around a specific theme or topic. This helps your followers find the exact products they are interested in.
Bounties: Bounties are incentive programs where you can earn fixed advertising fees for driving actions apart from product sales on Amazon.
Live Creator App: With the Amazon Live Creator app, you can stream live video content featuring your product recommendations directly on Amazon.
Influencer Program Extension: This browser extension allows you to easily add products to your storefront from any Amazon page. Just browse, click and add, right from the product page.
How do I comply with the policies and guidelines of the Amazon Influencer Program, such as disclosing my affiliation, avoiding prohibited content, and respecting intellectual property rights?
Disclosing your affiliation: Always be transparent about your partnership with Amazon. You can include a statement in your posts or videos to inform your followers that you may earn commissions from their purchases.
Avoiding prohibited content: Make sure to follow Amazon's Community Guidelines, which prohibits offensive, harmful, or inappropriate content. Also, avoid misleading claims or promotions.
Respecting intellectual property rights: Only use content (like images or text) that you have rights to. Infringing on someone else's copyright or trademark is a violation of Amazon's policies.
How do I get access to exclusive deals, events, and opportunities as an Amazon Influencer?
Amazon provides its influencers with access to exclusive deals, events, and opportunities. This could include discounts on products or services, invites to online or offline events, and chances to collaborate with brands or other influencers. You can find out about these perks through your influencer dashboard or email notifications. Just make sure to keep an eye out!
I hope that covers all your questions. Remember, becoming an Amazon Influencer can be a rewarding journey if done right.
Conclusion
That's a wrap, folks! We've journeyed through the ins and outs of the Amazon Influencer Program and how it stands out from the Amazon Affiliate program. We've discussed how you can keep a close eye on your performance, use various tools like idea lists, bounties, live creator app, and the influencer program extension to maximize your impact.
Just remember, when you're swimming in the Amazon ecosystem, compliance is key. Keep your content clean, respect intellectual property rights, and be transparent about your affiliations. Staying within the guidelines is paramount to your long-term success in the program.
Joining the Amazon Influencer Program offers an opportunity to not only grow your audience but also monetize your influence in a way that brings value to your followers. The program provides influencers with a platform to share their favorite products, engage with followers in a more personalized way, and earn money doing what they love.
So, are you ready to join the ranks of successful Amazon influencers? With your unique voice and our tips to guide you, there's no limit to what you can achieve. Dive in, and let's see where this journey takes you. Apply for the Amazon Influencer Program today and start building your very own Amazon storefront. Your followers (and your bank account) will thank you!
Embrace the journey, and remember, I'm always here at CDLP Online to provide you with more insights and guidance. Until next time!